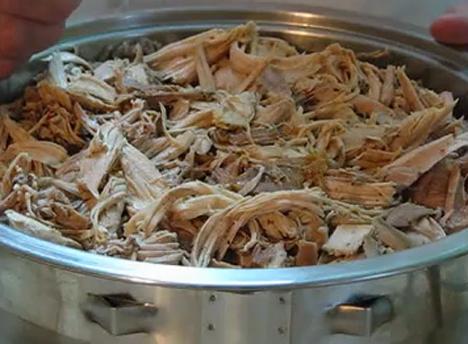 Yes, I know I have posted this recipe before but this is one of my all time favorite recipes. Always a crowd pleaser, I have been making and tweaking it for over 15 years now, and I have made some recent changes that kick it up a notch. It is great for a crowd -- at a Crab Feast, a Tailgate or on the Fourth of July. It fills a slider roll as well as a tortilla, and stands on its own just fine along side some slaw. It freezes well too, making it a perfect option for busy weeknight dinners once your fall activities heat up.
This is a vinegar based bbq , and not very saucy. Feel free to serve it with your favorite bottled sauce or Sriracha on the side, if that suits your taste, and don't hesitate to do your own tweaking.
Pulled Turkey Barbeque
2 large vidalia onions, chopped
1 large garlic clove, chopped
2 C cider vinegar
1/2 stick unsalted butter
1/2 C ketchup
3 T Worcestershire Sauce
1 t liquid smoke
1 chili in adobo sauce
1 T salt
1/2 T freshly ground black pepper
5 1bs turkey pieces ( legs, thighs, etc. or one bone-in breast)*
*using bone-in, skin on meat will greatly enhance the overall flavor
Place onions, garlic, vinegar, butter, ketchup, Worcestershire sauce, liquid smoke, chili in adobo. S&P in a large stockpot. Bring to a boil, then simmer for 15 minutes.
Add turkey pieces and cook on low heat for 2-2 1/2 hours.
Remove turkey from pan and set aside until cool enough to handle
Cool sauce for 15 minutes, or so, and then puree in batches in a blender. Be sure to leave the hole in the top of blender lid open or you will have a hot mess!
Remove skin from turkey and pull meat from the bones.
At this point, I often refrigerate the sauce and meat overnight. The next day, skim the fat off the sauce (if desired) and continue the recipe as described below....
Return pulled turkey and sauce to a large heavy saucepan, stirring to coat the meat with sauce
Simmer over low heat for 1 - 1 1/2 hours. Adjust seasoning to taste (you may want to add some hot sauce, more liquid smoke, S&P).
Serve on slider buns with cole slaw.